Brand:
Belkin
Style Code:
 F5L099qe
First source date:
September 30 2015
Availability:
IN STOCK
Delivery options:
 FREE SHIPPING AVAILABLE
Product dimensions:
 7.30 x 0.85 x 7.90 inches
Shipping weight:
 13.6 ounces
Our Price: $175.00 TT ($27.22 USD)
Price includes all freight, tariffs, fees and taxes. Delivery across Trinidad & Tobago. For delivery to additional countries please view Delivery Information
By clicking BUY NOW you will be taken to the secure servers provided by PayPal to complete your order. Upon completion you will be redirected back to the MasterSource website. We do not store your credit card information in cookies or in our database. For more information please see our Privacy Policy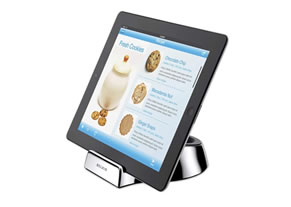 DESIGNED WITH HOME CHEFS IN MIND
Made especially for use in the kitchen, the Chef Stand + Wand gives you the freedom to interact with your tablet while you cook—without worrying about touching your device with messy hands. The case-compatible stand has a non-slip rubber base and two different angles that are ideal for countertop use.
The wand allows you to follow recipes and browse the Internet without ever laying a finger on your screen. It comes with its own storage stand and is easy to grab while you're busy handling food and other kitchen equipment. The magnetic tip works with any touchscreen, and can be used to wake up an iPad 2.All components can be washed by hand using warm, soapy water.
Made for use with messy hands
Stand has a non-slip rubber base and dual angles for easy viewing
Stylus is easy to grip and has a magnetic tip that can wake up an iPad 2
Includes stand, stylus, stylus holder
Hand-washable
Case-compatible
1-Year Limited Warranty
| | |
| --- | --- |
| Compatibility | iPad 2, iPad 3rd gen, iPad (Original), iPad mini, iPad mini 2, iPad 4th gen, iPad Air, iPad Air 2, iPad mini 3, Galaxy Tab 2 - 7", Galaxy Tab 2 - 10.1", Galaxy Tab - 7", Galaxy Tab - 8.9", Galaxy Tab - 10.1", Kindle HD Fire 7", Kindle HD Fire 8.9", New Kindle Fire HDX 8.9", New Kindle Fire HDX 7", New Kindle Fire HD 7" |
| Colour | Metallic |
| Package includes | Belkin Tablet Stand, stylus, stylus stand, and user's manual. (No tablet included) |